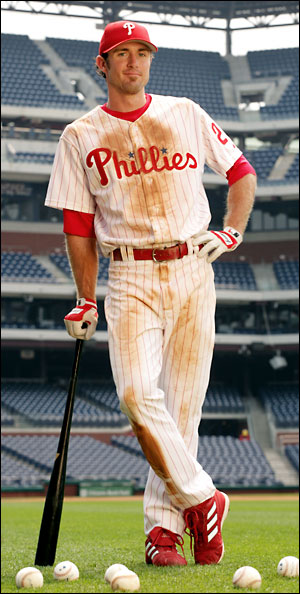 Chase Utley is dirty in every sense of the word.  He's damn good because of his nasty talent and he's not afraid to go all out and get himself dirty to make plays for his team.  As a result, his uniform usually looks as it does above — Philthy (see what I did there?)  When you play your heart out and throw yourself around the field you're not only going to get dirty from the field, but naturally, you're going to sweat profusely. When it comes to having a dirty jersey and sweating a ton at the end of games, Chase Utley probably ranks amongst the "best."
But the dude needs some antiperspirant deoderant.  He had some pretty noticeable stains underneath his armpits on Monday night.  I noticed them during his at bat in the 9th inning and was able to grab this screen shot (see discoloring under left armpit):
Even Utley looks to be in a bit of discomfort from the stench.  If you don't see it, I promise it's there.  See the right armpit below, too:
Clear discoloring under the pits.
Perhaps Utley was being superstitious during the series and not washing the underarms of his away jersey or the stains froze4lyfe from the Colorado tundra temperatures.  After all, Utley is superstitious with his apparel and made a catch earlier this year with his armpit.  Maybe he mixed the two together.
Either way, I think Utley benefited the most from the post-game champagne shower from his teammates.  Hopefully, he'll do us all a favor and take care of those bad boys for the NLCS.