As I mentioned yesterday, NBA Draft Blog is coordinating a Bloguin-wide mock draft. I'm in charge of both the Pistons and the Indiana Pacers. We're about halfway through the first round, so check out picks 1-10. I'll go by 10′s the rest of the way too, with each mock GM's reasoning on why they made the pick.
1. Washington Wizards: John Wall, Kentucky – Mookie, A Stern Warning
Not many expected this at all — Wall was low on most GM's cheat sheets, but ultimately Ernie Grunfeld decided that a 6'4″ point guard who can jump out of the gym and basically do everything needed on both ends of the court could be just what the struggling franchise needs. Potentially stacking Wall alongside Gilbert Arenas makes for a very interesting and potent Wizards backcourt.
2. Philadelphia 76ers: Evan Turner, Ohio State – Ricky, Sixers4Guidos
[The] Sixers need a SG badly, in order to put Iguodala back to his real position, SF. Turner and Holiday (20 y/o) will form the youngest starting backcourt in the NBA, and the backbone of the franchise for many years to come. Since [the] Sixers are not in a win-now mode, they go for the best players available, even if a big man would have perhaps fit their need (slightly) better.
3. New Jersey Nets: Derrick Favors, Georgia Tech – Brian Isaacson
Favors is 6'10, 240+, athletic and hasn't even turned 19 yet. Tremendous upside. Will look great playing next to Brook Lopez.
Check out picks 4-10 after the jump…
4. Minnesota Timberwolves: DeMarcus Cousins, Kentucky – Dave Kelsey, TWolves Blog
On the bright side, ten years from now everyone could potentially be looking back and saying Cousins was the best player from this draft. Do I really believe that?  No… not really.  But he does have tons of ridiculous upside potential.  On the other hand, he is also potentially Starbury-esque crazy. You have to take him in this spot though.
5. Sacramento Kings: Greg Monroe, Georgetown – Scott Levin, Kings Examiner
This becomes an interesting scenario for the Kings. With Cousins off the board, it sets up perfectly for a trade down, something the Kings are looking at. But if they don't receive a solid offer, the pick goes to Monroe. Even with Dalembert in the fold, there is a need for some depth in the frontcourt, and Dalembert and Carl Landry are free agents after the upcoming season. Brief consideration is given to Wes Johnson, but with Donte Greene and Omri Casspi progressing nicely at small forward, there really isn't a need there.
6. Golden State Warriors: Wesley Johnson, Syracuse – Ben Koo
The Warriors need a dependable wing to go along with the back court of Ellis and Curry. The Warriors front court is not spectacular by any means but should perform better next season. Azubuike is coming off of knee surgery and while Maggette has been a nice surprise, I am not sure he fits in with our long term plans. Johnson brings solid ball handling, finishing ability, scoring, and most importantly rebounding and a defensive mentality. With Randolph, Curry, and Johnson, we feel we won't have to wait another decade for a playoff appearance.
7. Detroit Pistons: Cole Aldrich, Kansas – Me
While guys like Monroe and Ed Davis may provide more offensive punch in the paint, Aldrich is arguably the safest pick in the entire draft. His ceiling may not be as high as other big men available, but he is probably the most NBA-ready of the group. The Pistons need a post presence on both ends of the floor, something Aldrich should be able to provide from Day 1.
8. Los Angeles Clippers: Al-Farouq Aminu, Wake Forest – Jeff Fox, Hoops Manifesto
I hate to jinx a fine young man like Al-Farouq Aminu by assigning him to the Clippers (which is the equivilant to the Sports Illustrated cover jinx), but he is the best player left on the board.  An athletic, hardworking combo forward, Aminu should form a dynamic, young, athletic frontcourt with Blake Griffin and help change the Clippers fortunes in the near future.
9. Utah Jazz: Ed Davis, North Carolina – Deborah Horton
With the Jazz almost certain to cut ties with Carlos Boozer the need for a power forward is certainly pressing. Davis is an athletic power forward that has a unique skill set for a big man. He can contribute to the Jazz's 2010 season early and often as a very competent replacement for Boozer.
10. Indiana Pacers: Xavier Henry, Kansas – Me
The Pacers need help at both guard positions. Point guard is the more pressing need, but John Wall is the only prospect at that position worthy of a pick in the top half of the first round. While Henry may be a year away, he could eventually combine with Danny Granger to provide one of the more lethal 1-2 punches in the NBA.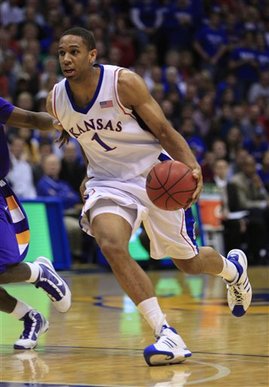 What are your thoughts so far? Should the Pacers stick with their chalk-white lineup and pick Gordon Heyward? Stay tuned for picks 11-20 sometime this weekend.