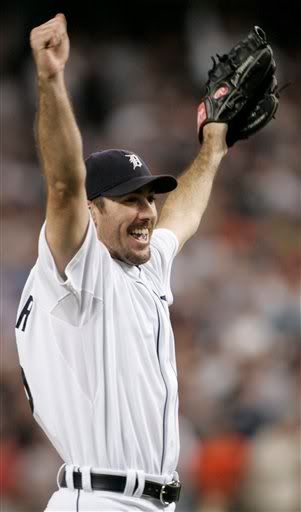 The last time Justin Verlander took the bump against the Milwaukee Brewers was June 12, 2007, also at Comerica Park.  What started as just another evening interleague game with me sitting in front of my MLB.tv on my computer eating goldfish and drinking cold Bush Lights, ended in a night where history was made and I was running around my apartment fully aroused.  You see, the last time Justin Verlander pitched against the Brewers he threw a no-hitter, the first for a Tigers pitcher since 1984 and the first in the city of Detroit since 1952.  It was epic, to say the least.
Sunday, Justin Verlander will head to the hill against the same opponent he no-hit two years, nine days ago.  The circumstances are slightly different now than they were then, though.  In 2007, Verlander threw his no-no in the middle of a hot-streak.  On Sunday, Verlander will be coming off his first loss of the season since April 17th.  Before Verlander's loss to the Cardinals last week, he had gone nine starts where he was essentially untouchable and definitely had no-hit type stuff.  It will be interesting to see how Verlander responds to his rough outing against the Cardinals and see if he can return to his recent dominance.
Let's hope a familiar foe and a tremendous accomplishment against this team the last time he faced them, will bring back good thoughts and return Verlander to his happy place.
[hype]