With the Lions sucking so bad for the last…well…decade, there has been a huge outcry from NFL fans around the league to take the Thanksgiving Day game away from Detroit. And really, can you blame them? The Lions have lost the last five Thanksgiving games and seven out of the last nine. It's not like any of them have been good games, either (unless your a big Peyton Manning or LenDale White fan, who put up career numbers numbers against the Lions on Turkey Day).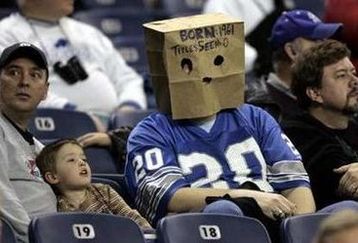 And with Matt Stafford and Calvin Johnson likely out for Thursday's game against the Packers, it's not looking like any of the Lions are going to be hoisting up any giant, genetically altered turkey legs after the game. They will more than likely give us yet another tough-to-watch massacre, making us thankful we weren't actually there to watch the game. And when you fall asleep halfway through the the second quarter, you can blame it on the tryptophan in the turkey.
None of that matters, though. Thanksgiving football has been played in Detroit since 1934, and should not be changed just because of the Lions' terrible play through this decade. I know for Lions fans (and NFL fans for that matter) it doesn't seem like we will ever get out of this rut. But there IS light at the end of the tunnel. You can't keep a professional sports team down forever, no matter how bad they are. I'm not saying that the Lions are going to be competing for a Super Bowl anytime soon, but sooner than later, they will be competitive again. To punish the fans of Detroit by taking away the ONE nationally televised game the Lions have a year because of the "Matt Millen Era," and ruining one of the oldest traditions of the NFL would be ridiculous.
Suck it up "NFL fans." You can stomach a Detroit Lions game for one day. And then you can get back to watching Brett Favre, Tom Brady and Peyton Manning on primetime every week.