Here are D4L's week 3 picks against the spread. Dupree and Rob tied last week for the best record at 10-5-1. Let's get to it, with the updated standings at the bottom. If you want to make your picks against us, please do so in the comments. If you participate we'll acknowledge you on the front page next week.
Bobby B's week 3 picks:
I was way off on the Week 2 GoW, picking Peyton to outdo little bro on a late TD. Instead, he bullied 'lil bro all night long. This week I'm going with the Houston/Dallas game. Dallas will play much better, but I still think Houston squeaks out a victory, improving to 3-0. Yes, Dallas will start 0-3.
Rob's week 3 picks against the spread: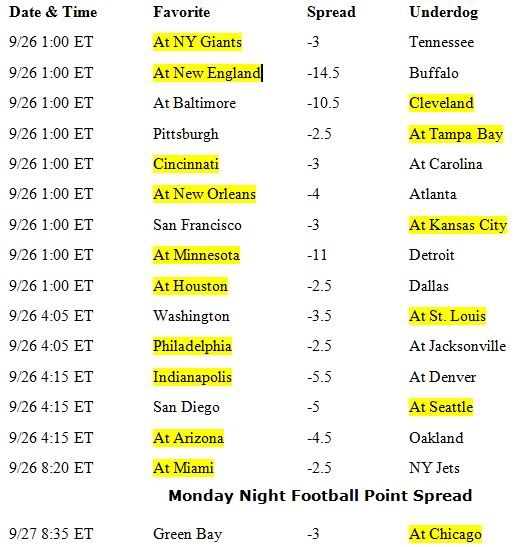 GoW: Miami beats a Revis-less Jets team with a late TD by stud WR Brandon Marshall.
Dupree's week 3 picks:

Brady G's week 3 picks:
Updated Standings:
| | | | | |
| --- | --- | --- | --- | --- |
| //// | W | L | T | GB |
| Dupree | 23 | 8 | 1 | — |
| Bobby B | 18 | 12 | 2 | 4.5 |
| Brady G | 16 | 14 | 2 | 6.5 |
| Robby R | 16 | 15 | 1 | 7 |